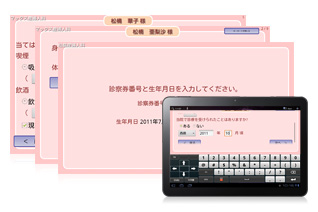 We developed a medical questionnaire system that obstetrics and gynecology patients can enter their information at the waiting room. Using tablet computers, this system enables the patients to utilize their waiting time for entering data while sitting and protecting their privacy.
As well as a paper medical questionnaire, the entered data can be seen directly on the electric medical record in the diagnostic room, and also transcription errors can't be occurred.
We will provide this system to many other medical departments besides obstetrics and gynecology in the future.
system info : Sony Tablet, Android 3.0